Can we escape our destiny?
Follow Us!Share this!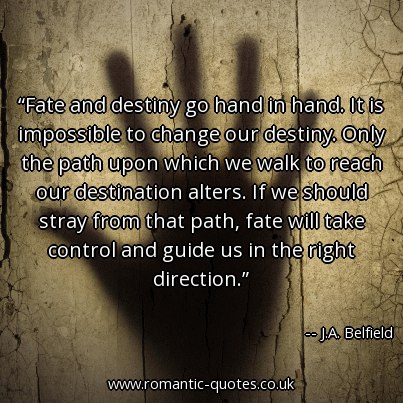 I think we all know the old story about the man who tried to avoid death. He saw him in the city in which he lived, and hoping to escape Death, traveled to a city as far as (whatever travel was the fastest in that version of the story) he could. But when he got there, Death approached him, and said how surprised he'd been to see him in the first city that morning, since he knew he was going to be there that night. The moral is that you can't escape your fate. Like all the stories of rulers from Herod to King Arthur killing off many babies in order to keep one from growing into a prophesied person who'll replace them. "That trick never works".
You know what works though? Live the way you want to live, do your best, and then what comes will be as good as it can be for you. If you are predetermined to (for instance 'kill your father and marry your mother') if you never kill anyone, that will sort of make sure that prophesy doesn't come true. Prophesies are visions of the future, and there are infinite futures. Your actions will take you to the one you choose, not some divination done so long ago that the variables have changed.

A certain rich merchant was walking through the market place of Baghdad when, standing across the street, he suddenly saw the figure of Death, beckoning him.
The terrified man ran home, mounted his fastest horse, and raced five hundred miles to Samara. Later that night, there was a knock at the door. When the man answered it, there stood Death.
"Why did you beckon me in the market place of Baghdad today?" asked the man. "I did not beckon you." replied Death. "I was merely surprised to see you, for I knew that tonight, we had an appointment in Samara.