Follow Us!Share this!
I am a non-specialist, a Jack of all Trades. In the CTCW community I am known as someone who does divination of many varieties, healing in many modalities from Reiki to herbalism, a magick user without being specifically trained, a pagan without being part of any tradition, I'm also an artist in many media, a historian of many periods, a cook (and apparently baker and brewer are considered separate sets of skills or interests), a writer with interests in languages, and basically, across the board my feeling is the broader your base of study, the more connections you can make between them. I have many passionate interests, and am always ready to add another!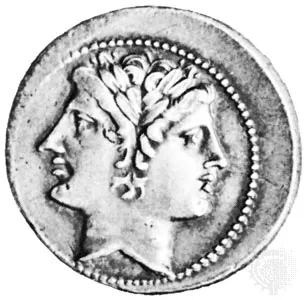 One less well known interest of mine is holidays. This intersects with my interest in religion and how people express their relationship with the divine and other people, as well as my passions for food (which is usually a part of celebration), and our relationship with the passage of time. For several decades I have tried to track down the ancient pagan holidays, and how they were celebrated, and I have contributed to the Facebook page Holidays that Might be Overlooked for about five years, watching weird modern holidays come and go. The internet has allowed people express their humor on Talk Like a Pirate Day, or crankiness on Festivus to spread to millions of others. Holidays also provide a venue to remind people of historical events (a very traditional holiday function), or causes, which was also traditionally common, although usually it was a god (priests) telling them that it was time to stop and pay attention to things they usually overlook.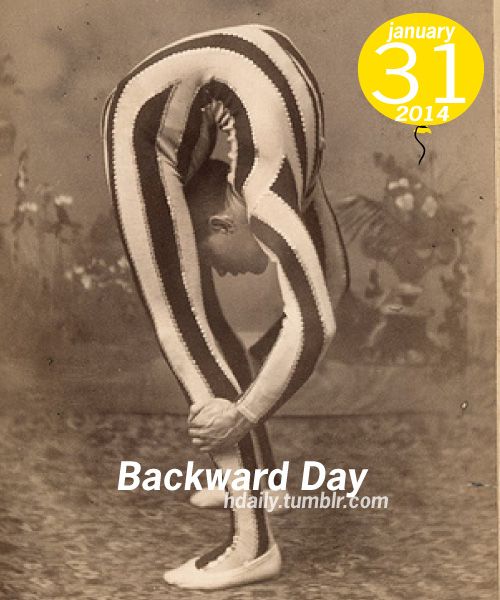 This brings me to today: January 31st is Backwards Day. On Backwards Day we are encouraged to do things the opposite way from the way we would ordinarily do them, walk backwards, wear clothing backwards, eat dessert first…. This is one of many "Inversion holidays", like Saturnalia or Feast of Fools, when rich and poor, powerful and powerless exchanged places for a brief time. This was primarily a way of providing an emotional safety valve for those who might otherwise rise up against severely imbalanced systems, enforce on those who had more than their share of wealth to redistribute it to those in need, and to give each the chance to get a bit of perspective on how the other side lived.
I also note that we are in the first Mercury Retrograde period of the year. Three times a year, the planet Mercury, associated with communication and commerce, looks (from where the Earth is making its own orbit around the sun) as if it were going backwards, over the path it had just done, and (on February 3rd) starts going "direct" again. Mercury Ret (☿℞) is a great scapegoat for anything that goes wrong. "The computer ate my report!" (as mine just did while writing this!) or the many "that's not what I said/meant!" woes that humans are prone to encountering at any time. I think of Astrology as a discipline like Meterology, it predicts what conditions are coming up so that we can prepare to take best advantage or reduce complications. If it's going to rain, we grab an umbrella, we don't wish it would never rain (that would be bad for the plants, and other life). With Mercury in retrograde, we slow down and look backwards. We reschedule, repair, reconsider, revise, review, reflect (see a pattern?). This is a great time for going back over things, and looking back to see what we've done. The god Janus, whose name was given to January, has two faces, one looking forward, one back. His power derives from combining both perspectives, and ☿℞ requires us to do that at least three times a year.
So embrace going backwards every once and a while, and try to benefit from the new perspective it gives!

This brings me to today: January 31st is Backwards Day. Backwards Day falls into the larger category of inversion holidays, like Saturnalia or various Feasts of Fools. It invites us to do things differently than usual, and get a new perspective on the world. During these holidays, masters served slaves, students could tell teachers what to do, the rich were pressured to share their wealth. In any society with large class divide, it gave the oppressed a brief chance to eat well, relax, and speak a bit of truth to the powerful. (We will acknowledge that since it was a short period, everyone involved was aware that the power structure would be reestablished after the "office party", and the boss might not be above taking petty revenge for too much licsence.)
I also note that we are in our first Mercury Retrograde of 2022. During these periods it looks like the planet Mercury is going backwards, although it really isn't. That's just our perspective from the Earth's personal path around the sun. I think of Astrology like meterology, it tells you when different conditions, whether rain, snow, heat or humidity is likely, so you can prepare and deal with it. Mercury cycles have to deal with communication and commerce, so these ☿℞ periods warn us to be careful, just as when it rains, we need an umbrella. That may be inconvenient, but where would plants be without the rain? In popular culture, "Mercury Ret" is a favorite scapegoat for when things go wrong. People blame everything on ☿℞. "My computer ate my report!" (Frequently backing-up or making spare copies is the astrological equivalent of grabbing an umbrella.) But like the inversion holidays. If you go full pelt most of the time, slowing down and checking your progress is a really good idea periodically. Mercury Retrograde is a wonderful time for going over things, re-check, repair, reconsider, revise, reflect (see a pattern?). As the planet seems to be going back over its own steps, it's a good time to go back over what you've done and see what you can learn from where you've been. Janus, the god who have his name to January, looks both forward and backward. The power comes from doing both.