And after Harvest, what? Gleaning
Follow Us!Share this!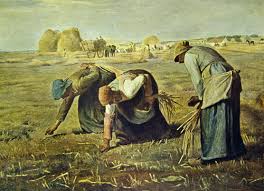 We know that the job isn't over until you've cleaned up the mess it made. Finish the job by cleaning up, (and check your work).
After the harvest, there was gleaning. The harvesters tied up the shocks of wheat and took them to the barn, then people who were willing to check what may have fallen went over the fields and got to keep it- so basically, women who had no income buying bread were allowed to glean before mice and other animals helped themselves. (Gotta love it when rich people get the really poor to clean up their mess and call it "charity".)
I hope you'll be enjoying the conference this week. We are hoping that next year we'll be in person again. The country has a year to figure out how to move forward with endemic Covid. We will make it as safe as we can, and if it's not safe enough, I expect we'll keep it virtual. But seeing each other in person, exchanging energy, it's magic, and we hope we can get back to it.

Before we leave the Harvest theme behind, I want to talk about the miracle of seeds. Can you think of anything more magickal? Inside a seed is the programming for making a brand new living organism, a plant or a person. If I were to tell you I could take a piece from a dead plant and apply earth, water, fire, and air to it and make a living replica, you'd think I was demented. Unless you knew the piece was a seed, which I intended to put in soil, water, warm, and cultivate, in which case you might say "that's not magick, that's just how the world is!". What, I ask, is any religion or philosophy other than a description of how the world works? Magick is when we apply energy and intention to the way we take actions to create outcomes we want. A seed holds so much potential, but it needs the right conditions to manifest them.
We experience many cycles: Day and Night, phases of the Moon, the Seasons of the year, Birth, Death and Rebirth; there are cycles we observe by studying history or geology, and others that are so long we don't even think about them. But we can learn to recognize cycles, and prepare those 'seeds' that allow the good things to come again in good time, when the right point comes again. Those seeds of potential return are precious. At harvest we have so many we feel wealthy, and confident. But if you eat all your seed corn, and don't save some for the next planting season, you will suffer more than if you save a portion. And by saving the best, each cycle becomes a bit better. This is the final lesson.
Have a blessed year!