Aidan Kelly on Otherworldly
Follow Us!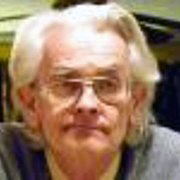 Wednesday May 12th at 8 Tchipakkan will by joined by Aidan Kelly, author and Elder, who was there for the creation of much of the modern Wicca/ Neo-Pagan Movement. In the 60's he started the New Reformed Orthodox Order of the Golden Dawn. In the 70's he was one of the founders of the Covenant of the Goddess, and was also involved in Gardnerianism and Feri. A bit more academic than most, he has written many books on the history of the early years of this community or group of communities.
He is still active, his next Zoom course (on psychic development) begins 5/16, so I expect we'll talk about that, as well as touch on the controversy between the idea that Wicca is a new religion, although Gardener presented it as a re-emergence of an "Old Religion" (which some still prefer). Given all he's seen and done, I would prefer to keep the options wide open. As an historian, I feel we do our best moving forward when we know where we've been, and it's great to have someone who still remembers the early years!
Join Zoom Meeting
https://us02web.zoom.us/j/89872263549?pwd=WWxSdUl4Z0hPWUJwUmhkd3BTVzlIZz09
Meeting ID: 898 7226 3549
Passcode: 534314
Kelly's books include: Crafting the Art of Magic, Book I: A History of Modern Witchcraft, 1939-1964 (Llewellyn's Modern Witchcraft Series) 1991 aka Inventing Witchcraft: A Case Study in the Creation of a New Religion 2008.
Hippie Commie Beatnik Witches: A Social History of the New Reformed Orthodox Order of the Golden Dawn 2011
The Word Creates the Thing It Names: Poems for the 21st Century 2020
A Tapestry of Witches: A History
Share this!