Speaker Spotlight: Lauren Grover
Follow Us!Share this!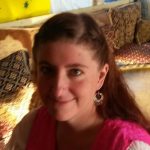 Lauren Grover is both a presenter and vendor at CTCW, returning to this year reprising the Guedra- North African Women's Trance Ritual which she first offered here in 2010.  Since Guedra dancing needs 8 people, please sign up for this at the registration when you come in (or during the conference); the workshop/ritual will take place on
Sunday morning.
She will also be offering her services as a talented Henna artist during most of the conference as well as doing a workshop Henna in Ritual  Friday at two. Lauren Grover first studied henna, dance, and guedra in the Society for Creative Anachronism back in the early 90s. In 1993, she became New England's first professional henna artist, and has taught, danced, and doodled all over the northeast since then. Lauren read far too many "Choose Your Own Adventure" books as a child to ever fully follow someone else's spiritual path, but so long as there is kindness and joy, she feels that everyone has some truth. Paisley Peacock Body Arts (or on facebook here). Also www.BrassRingCT.com  See more images of her beautiful work on the vendor spotlight from the 1oth.