shaman
Werewolves- History and Legend with Tchipakkan
I'll cover shape shifters and lycanthropes from the Norse berserkers to the witches of the early renaissance, (mostly concentrating on European) to modern interpretations in media, gaming, and magickal theory and practice. What do these accounts have in common, and what does modern shamanic practice show us about these legends?
Share this!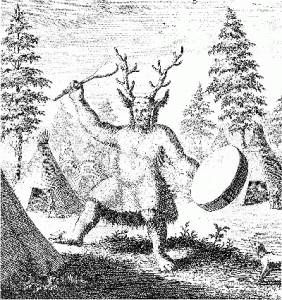 Spirit-workers and magicians the world over, and all throughout time, have used a variety of methods to go into altered states. From there, they could access other worlds and touch divine forces. This class will give you a map of the eight roads to that unique place, covering methods of altered states used by all cultures, some more dangerous than others. From the Path of Rhythm to the Path of Sacred Plants to the Path of Meditation to the Ordeal Path, we'll explore them all. We will not, however, be using these methods in class; this is discussion only.
Share this!
Please join Tchipakkan and long time CTCW speaker Starwolf on the New Normal 8 pm Wednesday, July 19, 2017, 8-9 p.m. edt.
We'll be talking about bindrunes
It's another podcast coming up for your education and entertainment!
Wednesday night Starwolf will be talking with Tchipakkan on http://liveparanormal.com/ from 8-9 pm.
The topic of the evening is Bindrunes and Rune Magick. We're told that the runes were given to the Norse folks by Odin. They're a symbol system, an alphabet, a method of divination and a method of working with energy, and Starwolf and Tch
ipakkan will be talking about the more metaphysical uses of the Runes.
What is a bindrune? It's when combine two or more runes often using the same long central line. The magickal properties of both/ all runes are still there. Why and how would you do this? Listen to learn more.
Want to catch this interview, call in with your own questions?
If you just want to listen, you can go to www.liveparanormal.com , click the "Listen Live and Chat" listing under the "radio-listen/chat room" heading, and click "LISTEN HERE" next to "the New Normal".
We'd love you to phone in with questions: 619-639-4606 (live only). If you know you're going to listen later but have a question, look on the facebook events page and leave a question there. We'll try to answer it during the show.
If you can't tune in 8-9, Live Paranormal.com archives its shows by date, and I archive them by date, guest, and topic on my website: http://tchipakkan.wordpress.com/the-new-normal/directory-of-podcasts/
Hope you can join Starwolf and me tomorrow night from 8-9 at the New Normal on liveparanormal.com
Save
Save
Share this!
Shaman Panel- Hauntings and Apparitions
Our panel of shamans will talk about dealing with the spiritual world. They will discuss how to prepare a haunted place, and prepare yourself for interacting with or cleansing the dwelling of unfriendly spiritual beings and influences, or helping friendly ones. They'll discuss their experiences in dealing with the spiritual world, and how expectation, effects experiences, and practices, and how to tell between non-sentient negative energy pools, and entities that have an agenda (at odds with those living there).
Share this!