ritual
If you missed the live show, the archive is here
Please join Tchipakkan and her guests on the New Normal 8 pm Wednesday, March 29, 2017, 8-9 p.m. edt.
I recently read an ebook, Talking About the Elephant, a collection of essays about different aspects of cultural appropriation and how it occurs in Neo-pagan culture. Ii can highly recommend the book, and it's a discussion that really should not be avoided, especially as so may of our traditions do draw inspiration from the spiritual practices of other cultures.
None of us wants to be guilty of "plastic shamanism" or to participate in cultural appropriation- disrespecting the spiritual and intellectual rights of other cultures, yet when all humans are psychic and working with the same basic spiritual abilities, can we be told that we are not allowed to do what others do when working with spirits? Anyone (with training) can visit the Akashic Records, but should only those with a background in Sanscrit call them that? Anthopologists have popularized the term Shaman (used by Tungusic Spirit Workers); since most cultures have someone who does this work, so should we reserve the term for only the handful of those in that culture? Let's face it, as extensive as English is, it has very few terms for spiritual concepts, so, as usual, it borrows terms from other cultures- and we often go to other cultures for a deeper understanding of how anything from chakras to other levels of consciousness work.
Magickal practitioners, (like Samuel MacGregor Mathers & Moina Mathers illustrated in Golden Dawn robes) also have a tradition of borrowing concepts and props from other cultures, as did early 19th c. Druids, and many others. At what point does imitation stop being flattery and become appropriation? Any of us who truly respect our teachers and models need to look at these issues and try to find the lines we don't want to cross before we find ourselves defending actions about which we aren't really comfortable. We cannot keep "ignoring the elephant in the room".
I'd really love to have people call in and share their perspectives on this important subject. The New Normal is live, on LiveParanormal Wednesdays at 8, and the call in number is 619-639-4606
You can open a window on your computer to www.Liveparanormal.com, click the "Listen Live and Chat" listing under the "radio-listen/chat room" heading, and click "LISTEN HERE" next to "the New Normal".
If you want to chat, you'll need to go to the top of the home page on the extreme right and click "Join" to set up a personal account (it's free but takes a few moments, so you might want to do this in advance) If you know you're going to listen to the archives later, later but have a point or question, look on the facebook events page and leave a question there for me to share during the live show. I post a link to the archives on the fb event page and on my website: http://tchipakkan.wordpress.com/the-new-normal/directory-of-podcasts/ (LiveParanormal archives them only by date and New Normal).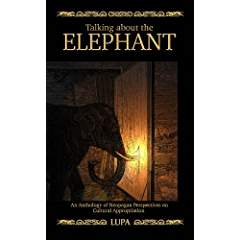 You can get the kindle book on Amazon, and the paperback book is still available from Lupa at:
http://www.thegreenwolf.com/books/
Save
Save
Save
Share this!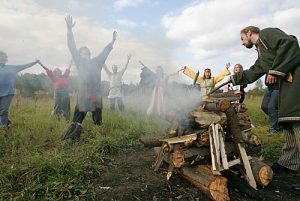 We've all been to them, been part of them, or even created them. Sometimes a ritual just goes off the rails. The reasons are legion, and the results vary from hilarious to hazardous. How do you avoid it? How do you recover? Come hear our panelists share their own disasters, or ones they've witnessed, and discuss how to recover from them, or avoid them entirely.
Share this!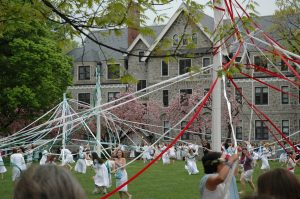 Miss the show? Listen to the archive here!
Please join Tchipakkan on the New Normal 8 pm Wednesday, 2-24-16, 8-9 p.m. est.
Those who've known me for long know that my passions include history and food, and these come together to create a fascination with holidays. Why are certain days considered holy? Why do humans need holidays? What do they have in common?
Many times holidays provide an occasion for us to stop and orient ourselves with our culture, with the world around us (passing of seasons), or with the gods and spirits with whom we interact. Rites of Passage usually mark a change in our relationships with others- birth, death, marriage, becoming an adult, joining a group that is seen as different from other groups within our culture. Often we take these occasions to remind ourselves of old stories, we eat (or avoid) special foods, we clean ourselves and our living spaces. If these actions weren't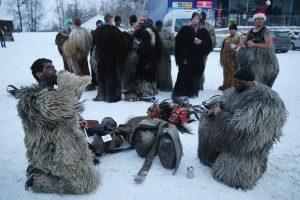 important, they would not be so prevalent. Looking at what they mean, what they do, how they change us and our relationships, we can make them more meaningful in our own lives.
We'll also talk about when we don't celebrate the "mainstream" holidays, and try to get time off for minority religious or personal holidays, how does that effect your relationship with those around you, both those who share, and who don't share your faith based holiday?
Please feel free to call in with any stories and descriptions about how you and your family and friends celebrate holidays. Do you have special meaningful ones, or do you just go along with whatever happens and take advantage of a day off to sleep in?
The call in number is: 619-639-4606


To listen live: open a window on your computer to www.Liveparanormal.com, sign in, and click on Shows, and the New Normal to listen. To listen later at your convenience, shows are archived by date on LiveParanormal.com here, and they're organized by date, topic and guest on Tchipakkan.com .
Share this!
Join us in the atrium for panels. Panels are where we get to talk to others who may approach spiritual and metaphysical topics from another perspective. We hope to bring together those with valuable information and ideas to compare notes, experiences, and make each other aware of what people approaching the same problem from another direction have learned. We don't expect to get agreement or even consensus , but to challenge each other with new thoughts and approaches. Held in the atrium, we try for discussions you would expect at an informal social gathering with mixed participants. Audience participation is vital, please ask questions and share your perspectives!
Sex and Gender in Ritual Panel
Do sex and or gender have a place it determining who may participate in a ritual? Historically, it often has done, but in the modern world, we are more careful to be sure that any restrictions are based on something more than what we are used to doing. We'll discuss real and imposed differences sex and gender may have on ritual as well as spiritual or magickal practices.
Male and Female can represent two sides of dualistic forces in the world, creating natural balances and complementing each other. In polytheistic cultures it is often considered natural to have priest for gods and priestesses for women, but when dealing with modern GLBT issues, is imposition of birth gender any more valid than suggesting that the gods may not call to someone born far distant from where they were traditionally worshiped?  And there is the observation that powerful shaman often embrace "Two Natures" (and if it can be an advantage, is it necessarily a requirement?).
Share this!