Mithraism
Please join Tchipakkan and Jane Sibley, on the New Normal 8 pm Wednesday, January 17, 2018, 8-9 p.m. edt.
miss the show? the archive is here: http://tobtr.com/s/10528767
Jane will be talking about the Mystery Religion Mithraism which was huge in the Roman Empire. There are many interesting links between Mithraism and early Christianity (which probably borrowed the 25th of December from Mithraism for their own deo-genisis). However, this was, like the Elusinian Mysteries, a religion in which the followers were enjoined not to speak about it to those not also in the cult. Thus we know far too little about the beliefs and try to get clues from surviving Mithraea (their places of worship), which at very least indicate that it was quite widespread.
Jane Sibley is an expert in many areas of folklore, and history in the areas of magick and religion, She's co-founder and a speaker at the Changing Times Changing Worlds conference, and author of several books both fictional and non-fiction. She has a Ph. D in history/ comparative religion, and her dissertation was on thunder/lightning lore in religion and folklore, as well as iconography in the Indo-European world.
The image of Jane speaking to museum goers at the Mithraum at the Yale Museum during a Mithracon.
If you have any questions or insights, feel free to give us a call between 8 and 9 Wednesday 619-639-4606 (live only).
If you can't make the live show 8-9- and have a question or comment, please feel free to write me a message and I'll read it on the air.
Want to listen later? Live Paranormal.com archives its shows by date, and I archive them by date, guest, and topic on my website: http://tchipakkan.wordpress.com/the-new-normal/directory-of-podcasts/

Hope you can join us tomorrow night from 8-9 at the New Normal. http://liveparanormal.com/
To listen on your computer, open a window on your computer to www.Liveparanormal.com, click play.
If you can't tune in while we're live (8-9 pm), all Live Paranormal.com shows are archived by date, and I'll post the link to this show here after the show. If you know you're going to listen later and have a question you'd like answered, look on the facebook events page and leave a question there. We'll try to answer it during the show.
Save
Share this!
Jane T. Sibley, Ph.D., known in the SCA as Arwen Evaine, or at her shop as "Auntie Arwen" is a traditional Norse practitioner and a specialist in Norse folklore and  runes. (These pictures show her at the Society for Creative Anachronism, because the clothes there are more fun! Also in the SCA she can openly teach many of the subjects like herbalism, runes, and folklore.) She has taught at many Pagan events for decades, including at Rites of Spring, Feast of Lights, Twilight Covening, Beltane, Ecumenicon, Etheracon, Harvest Gathering, … the list goes on. Among other accomplishments, she is the co-chair and creator of Changing Times-Changing Worlds, and she created MithraCon, a conference on Mithraism and other cults in the Roman Empire.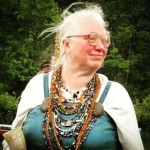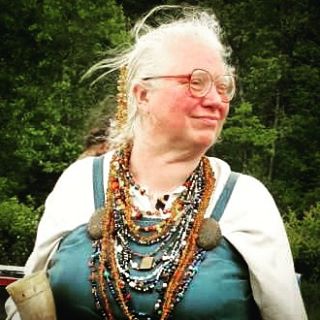 Her herbal expertise is expressed in her shop Auntie Arwen's Spices, where she sells many herb and spice blends as well as unique items from her varied interests and activities.
She has written several books ranging from the humorous: "Norse Mythology…According to Uncle Einar", the novel "The Hammer of the Smith", to the academic "The Divine Thunderbolt: Missile of the Gods", and soon to be published: Way of the Wise: Traditional Norwegian Folk and Magic Medicine, as well as the true adventures of "A Different Dragon".
Share this!