herbalism
You may have wondered about the rather unwieldy name for our conference. When we were designing the conference, we were trying to figure out what we wanted to accomplish. What we hope to do is to change our parent culture in which the reality of many energy fields, many beings and many effective practices that can enhance our lives are rejected out of hand. We were thinking how great it would be if our children's generation lived in a world where it was accepted that people are psychic and you wouldn't have to hint about it, talk around it, or pretend that it wasn't real so that you wouldn't be considered foolish. That's backwards! How foolish is it to deny evidence‽
We feel that if we can get the world to accept these realities and both benign and useful (yes, some people still feel that anything "occult" must be dangerous!) that they will be available to enhance daily life. How much better off we are when we know the benefits of using herbs for medicinal as well as culinary purposes. Yet there are still people out there who figure that if a remedy doesn't come in a box, it "can't work".
There are people who scoff at "water witching", yet many people quietly have a dowser locate their well. The American Dowsing Society has groups that provide this service in third world countries, and their experiences show how well it works.
I know that I use dowsing nearly daily to find lost objects around the house. Our family uses crystals for healing, as well as homeopathy, acupressure and aromatherapy. All of these things are said by critics to be useless, and even harmful if they prevent people from going to "established" practitioners. If they weren't working, of course we'd go to someone who could help.
But we need to change the story- the dialogue- how people talk about the unknown. At this point anything paranormal in film is still lumped into the Horror genre. As you may have noticed in the last paragraph, much of what I use these 'supernatural' techniques for is practical, finding lost objects or healing faster. The world would simply be easier to navigate if we didn't deny an entire section of available human abilities. So when thinking about the future, think about a world where there is no resistance, no denial, no pretense that magick isn't real. The world is changing, we just want to make it better.
Share this!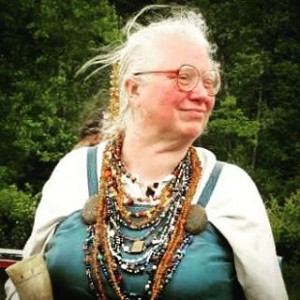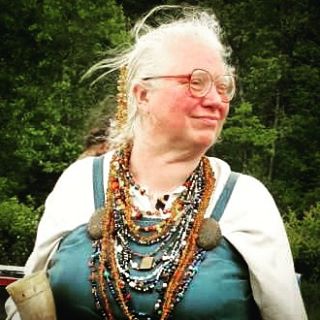 Please join Tchipakkan and Jane Sibley of Auntie Arwens Herbs  on the New Normal 8 pm Wednesday, April 12, 2017, 8-9 p.m. edt.
If you miss the live show, the archive is here.
We'll be talking about herbs and their uses, concentrating on the Spring herbs and how to use them for healing and magick.
Jane is also known as Auntie Arwen, and her shop Auntie Arwen's Spices, offers herbs, spices, salts and blends from around the world. While you really must find them at an festival or market some time, just to sniff many of the culinary herbal blends (you can't do that over the air), we are going to be talking about other aspects of herbs and spices- the magickal and medicinal (because herbs were the beginning of most medicines). (We've done this together at Earth Spirit's Twilight Covening as a weekend intenstive on spiritual herbalism.)
Most people have heard about willow bark as the precursor of asprin, and that cherry bark is in cough drops, but there are so many other herbs that we will talk about that you can use to help you in many first aid situations. We're concentrating on the ones you can find and use in spring, like dandilions, chickweed, violets, lambs quarters, mints, wood sorrel, & coltsfoot flowers. We'll try to cover both wild herbs you'd collect and ones you'd grow, perhaps talk about the ones you may be planting now. (This offers us the chance to do shows later on summer and fall herbs as well.)
If you'd like to catch this interview, call in and be part of the live chat happening during every show? Call 619-639-4606 between 8:05 and 8:50.
If you just want to listen (while doing other stuff on your computer), you can open a window on your computer to www.Liveparanormal.com, click the "Listen Live and Chat" listing under the "radio-listen/chat room" heading, and click "LISTEN HERE" next to "the New Normal". We'd love you to call in with questions: 619-639-4606 (live only). If you have a question, but are busy during the live show, leave a question in the facebook events page. We'll try to answer it during the show.
If you can't tune in 8-9, Live Paranormal.com archives its shows by date, and I archive them by date, guest, and topic on my website: http://tchipakkan.wordpress.com/the-new-normal/directory-of-podcasts/
Save
Save
Share this!