Month:
March 2017
If you missed the live show, the archive is here
Please join Tchipakkan and her guests on the New Normal 8 pm Wednesday, March 29, 2017, 8-9 p.m. edt.
I recently read an ebook, Talking About the Elephant, a collection of essays about different aspects of cultural appropriation and how it occurs in Neo-pagan culture. Ii can highly recommend the book, and it's a discussion that really should not be avoided, especially as so may of our traditions do draw inspiration from the spiritual practices of other cultures.
None of us wants to be guilty of "plastic shamanism" or to participate in cultural appropriation- disrespecting the spiritual and intellectual rights of other cultures, yet when all humans are psychic and working with the same basic spiritual abilities, can we be told that we are not allowed to do what others do when working with spirits? Anyone (with training) can visit the Akashic Records, but should only those with a background in Sanscrit call them that? Anthopologists have popularized the term Shaman (used by Tungusic Spirit Workers); since most cultures have someone who does this work, so should we reserve the term for only the handful of those in that culture? Let's face it, as extensive as English is, it has very few terms for spiritual concepts, so, as usual, it borrows terms from other cultures- and we often go to other cultures for a deeper understanding of how anything from chakras to other levels of consciousness work.
Magickal practitioners, (like Samuel MacGregor Mathers & Moina Mathers illustrated in Golden Dawn robes) also have a tradition of borrowing concepts and props from other cultures, as did early 19th c. Druids, and many others. At what point does imitation stop being flattery and become appropriation? Any of us who truly respect our teachers and models need to look at these issues and try to find the lines we don't want to cross before we find ourselves defending actions about which we aren't really comfortable. We cannot keep "ignoring the elephant in the room".
I'd really love to have people call in and share their perspectives on this important subject. The New Normal is live, on LiveParanormal Wednesdays at 8, and the call in number is 619-639-4606
You can open a window on your computer to www.Liveparanormal.com, click the "Listen Live and Chat" listing under the "radio-listen/chat room" heading, and click "LISTEN HERE" next to "the New Normal".
If you want to chat, you'll need to go to the top of the home page on the extreme right and click "Join" to set up a personal account (it's free but takes a few moments, so you might want to do this in advance) If you know you're going to listen to the archives later, later but have a point or question, look on the facebook events page and leave a question there for me to share during the live show. I post a link to the archives on the fb event page and on my website: http://tchipakkan.wordpress.com/the-new-normal/directory-of-podcasts/ (LiveParanormal archives them only by date and New Normal).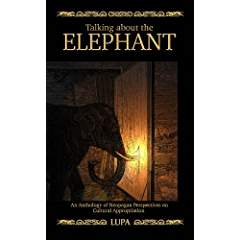 You can get the kindle book on Amazon, and the paperback book is still available from Lupa at:
http://www.thegreenwolf.com/books/
Save
Save
Save
Share this!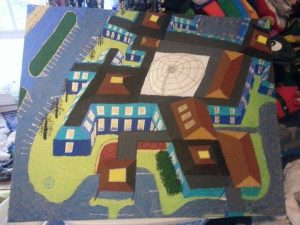 With Joy as this year's theme, we've decided to have another Art Show! (We had one last when the theme was Communication.)
Two years ago we were back at the Northampton MA site where we started, and Raymond Taylor did this birds eye view painting of that hotel- which no longer exists except in our memories, and this painting.
No matter what your medium, or whether you work in sacred space or just bliss out, we hope you'll come and share your work this year at the art show.
Save
Share this!
Most of us know the frustration of having the computer do what we unintentionally asked it to, rather than what we thought we were asking it to do. Sometimes this can be as simple a problem as a finger hitting two buttons at once, or confusing the "command" and the "option" keys. (Sometimes we never figure out why it did what it did. I like to blame computer pixies.) But we can forget that our subconscious mind often is programming us as much as our conscious mind is. And like a toddler who has no problem asking questions he doesn't want an answer to, only your attention, your subconscious has all the time in the world. It can keep on telling you stuff you don't consciously believe hour after hour. Like the toddler, it often repeats things it doesn't understand, but picked up long ago- perhaps from an advertisement: "you aren't good looking enough (without whatever we're selling)", or perhaps from something someone said although they didn't mean it: "you must be crazy!" The problem is that when something is repeated often enough, you begin to accept it. It becomes "the new normal". You accept that you aren't good enough or you're crazy. The thing to do is to argue back with that inner toddler voice with a firm "no". You don't need to reason with it, it won't respond to that. You just tell it firmly, and every time you hear it. "That's not true, I am plenty good, I am sane, I am happy, I have a good life…" Don't get bogged down in arguing, because it's a waste of time.
Don't give both sides of a foolish argument the same weight, in any situation, they don't deserve that respect. Some things are different. While you can look for the silver lining in breaking your leg,
the pain is real, and worthy of taking pain killers. ("thank you body for that excellent message that there's a problem, I'm dealing with it, now be quiet!") The messages from your subconscious are often not worthy of that consideration. This does mean we have to learn to distinguish between the voice of our intuition, which can be a powerful helper, and the voice of our inner brat, but as with most things, that comes with practice. Sometimes your inner child will remind you to enjoy the puppies, the beauty of a snowy day, the opportunity to have fun. Sometimes it wants all the cake, not just one piece, or to whine and sulk until it gets its own way. There are many parts of the subconscious mind, and the benevolent parent is as important as the voice of the child. If your inner child is not serving you well, it's time for a time-out. And yes, with frequent patient reminders, you can reprogram or train your inner child (or inner critic) to stop feeding you negative messages, and instead become a ally to remind you to stop and enjoy yourself. Think about "enjoy", a verb about filling yourself with joy. Do it.
Save
Share this!